Upcoming Events: Seminar Schedule
Intermediate & New Salesperson Training - Professional Automotive Sales - The Road to a Sale
Wednesday, December 06, 2023 - 8:30am-4:00pm
9150 S. Hills Blvd. Broadview Heights, OH 44147
Members: $275/Person Non-Members: $450/Person

F&I Manager's Guide to Compliance - NORTH OLMSTED
Thursday, November 16, 2023 - 10:30am-1:30pm
Courtyard Marriott Cleveland Airport North
Members: $75/pp Non-Member: $150/pp

HAZMAT Training, Testing & Certification
Thursday, November 16, 2023 - 9am-12pm
9150 S. Hills Blvd. Broadview Heights, OH 44147
SAFE: $0 GCADA Member: $45/pp Non-Member:$100/p

F&I Manager's Guide to Compliance - BOARDMAN
Thursday, November 09, 2023 - 10:30am-1:30pm
Holiday Inn Youngstown South Boardman
Members: $75/pp Non-Member: $150/pp

SAFE Supervisor Meeting
Thursday, October 26, 2023 - 9am-12pm
GCADA - 9150 S. Hills Blvd. Broadview Hts. 44147
SAFE Members $0


January 2010 Registration Report News Release
January 2010 Registration Report News Release
Greater Cleveland Automobile Dealers' Association
Cleveland, OH (February 19, 2010) –
According to figures released today by the Greater Cleveland Automobile Dealers' Association (GCADA), January 10 v. January 09 new vehicle car and truck sales increased less than 1%. Ford led all automakers followed by Chevrolet and Toyota for January Northeast Ohio sales.
"The January sales reflect a slow recovery, however numerous brands have posted strong increases in January 10 v. 09. Interestingly, luxury sales are beginning to grow which is traditionally a leading indicator of consumer confidence in the marketplace." says Louis A. Vitantonio, Jr., President of the GCADA.
18 Brands Up Jan. ('10 v. '09)
The following eighteen brands posted sales increases in January '10 versus January '09: Audi, BMW, Ford, GMC, Honda, Hyundai, Infiniti, Kia, Land Rover, Lexus, Mazda, Mercedes-Benz, Porsche, Saab, Subaru, Toyota, Volkswagen and Volvo.
New-car and truck sales in Northern Ohio
January '10 / January '09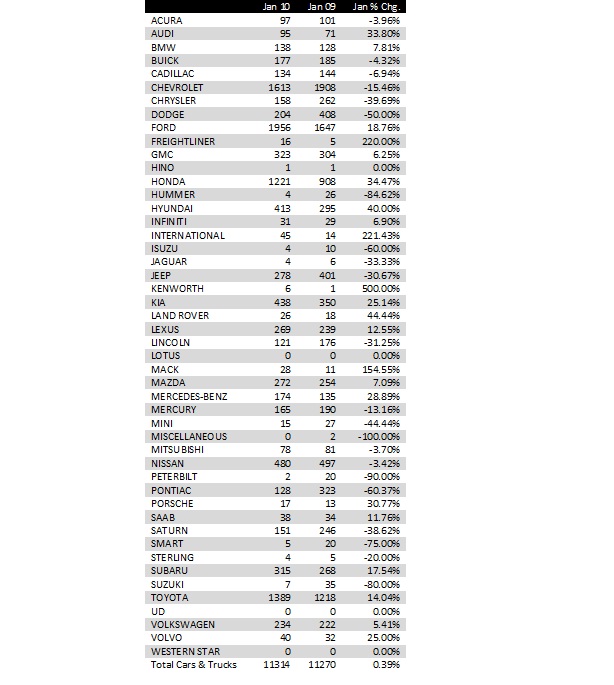 Retail sales figures are based on vehicle registration reports from the Ohio Bureau of Motor Vehicles. Vehicle sales data includes the counties of: Ashland, Ashtabula, Carroll, Columbiana, Coshocton, Cuyahoga, Erie, Geauga, Holmes, Huron, Lake, Lorain, Mahoning, Medina, Portage, Richland, Stark, Summit, Trumbull, Tuscarawas and Wayne.
# # #
<< Back