NADA's Charitable Foundation Makes it Easy to Give Back
NADA's Charitable Foundation Makes it Easy to Give Back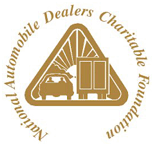 NADA's Charitable Foundation Makes it Easy to Give Back
Sponsor a CPR unit for a valuable organization in your community.
For more than 35 years, new vehicle dealers have donated Little Annie cardiopulmonary resuscitation (CPR) training manikins to hospitals, police and fire departments and schools across the country from the Medical Grants program of the National Automobile Dealers Charitable Foundation. This program offers a wonderful opportunity for dealers to give back to their communities in an important way.
If you know of an organization in your community that may have a need for a CPR training unit (there are various options from which to choose), consider calling them this year and offering to sponsor a life-saving CPR unit.
Click here to download the registration form and return it to Sara Panza at spanza@gcada.org or via fax at 440-746-1504.

About the National Automobile Dealers Charitable Foundation
The NADA Charitable Foundation, established in 1975, is the philanthropic arm of NADA. Funds contributed by new-car and truck dealers and friends of the industry provide emergency disaster relief, financial support to colleges and universities and community service programs. For more information, visit www.nada.org.
<< Back